Columbia Library's Electronic Resources
Need help? To make an appointment for one-on-one assistance with your eReader or smartphone, call us at 618-281-4237.
Cloud Library
OverDrive / Libby
Hoopla
NewsBank
Cloud Library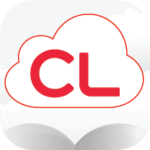 Download the app for your device and log into your library account. You can find links to all of the apps at http://www.yourcloudlibrary.com/index.php/en-us/
Browse the collection, check out a book, or place a hold. 
Read! 
To see if your device is compatible, consult the Device Cheat Sheet.
** Please note that as of March 2017 the Nook HD and HD+  are no longer compatible with the Cloud Library app from Google Play, but you can use your device's browser (such as Google Chrome) to navigate to https://ebook.yourcloudlibrary.com/library/illinoisheartland/Featured and do all your searching and reading from there. Your device will need to stay connected to wi-fi to use the browser reading function. 
Questions? Contact us or download our Cloud Library brochure.
OverDrive / Libby
Hoopla
NewsBank
Free electronic resources online:
Audible (Amazon): Listen to hundreds of free children's audiobooks online.
Hathi Trust Digital Library: Access more than 17 million of digitized items preserved by academic and research libraries from around the world.
International Children's Digital Library: Read from a collection of 4600 plus books in 59 languages. Start your search by clicking 'Read Books'.
Internet Archive: a library of fiction, popular books, children's books, historical texts, and academic books based on a wide range of interests. Includes archives of old radio shows too.
Junior Library Guild Digital: Free eBooks for Elementary, Middle School and High school students. Readers get unlimited access to read books online from any device.
LibriVox: Thousands of free public domain audio-books for all ages.
ManyBooks: Free library of 50,000 plus eBooks consisting of literary classics from the Project Gutenburg archives and works of many self-published authors.
Project Gutenberg: A library of over 60,000 free eBooks of the world's greatest literature published before 1924 and/or the U.S. copyright has expired.
ProPlay: Read play scripts, which have received professional productions available free-of-charge on the Web, to encourage their further production.
Questia: Over 5,000 public domain, classic and rare books from some of literature's greatest authors, including Frederick Douglass, Charles Dickens, Edgar Allan Poe, William Shakespeare and more!
Standard eBooks: A collection of high quality, carefully formatted, accessible, open source, and free public domain eBooks.
Unite for Literacy: Free digital access to more than 400 children's picture books that are narrated in more than 40 languages.